When I was the teacher-librarian in my school I had a display for the Author of the Month and I also posted books for the month's theme.
For example: For March - Women's History Month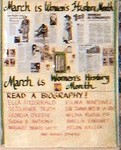 I posted every marking quarter's Honor Roll as well as any other award winners.
I also had a map of world showing countries where our students and staff came from.
There was a poster of graduates of our school including a former heavyweight boxing champion.