The names are in no order of preference as they are all wonderful people.
Many cross categories and are only listed once.
I am no longer updating this list as I feel all my PLN are stars
and just cannot find time to list everyone.
My Grade Level PLN Builder page (PreK-MS)
I am also placing mavens on my tech pages.
My Favorite Resources page
This page contains great educators and companies that I follow
who provide me with outstanding information.
Thanks Keith W. O'Neal @TeachLipscomb for #eduFollowChallenge
100 Alabama Educators to Follow on Twitter #eduFollowChallenge
100 Alaska Educators to Follow on Twitter #eduFollowChallenge
100 Arizona Educators to Follow on Twitter #eduFollowChallenge
100 Arkansas Educators to Follow on Twitter #eduFollowChallenge
100 California Educators to Follow on Twitter #eduFollowChallenge
100 Colorado Educators to Follow on Twitter #eduFollowChallenge
100 Connecticut Educators to Follow on Twitter #eduFollowChallenge
100 Delaware Educators to Follow on Twitter #eduFollowChallenge
100 Florida Educators to Follow on Twitter #eduFollowChallenge
100 Georgia Educators to Follow on Twitter #eduFollowChallenge
100 Hawaii Educators to Follow on Twitter #eduFollowChallenge
100 Idaho Educators to Follow on Twitter #eduFollowChallenge
100 Illinois Educators to Follow on Twitter #eduFollowChallenge
100 Indiana Educators to Follow on Twitter #eduFollowChallenge
100 Iowa Educators to Follow on Twitter #eduFollowChallenge
100 Kansas Educators to Follow on Twitter #eduFollowChallenge
100 Kentucky Educators to Follow on Twitter #eduFollowChallenge
100 Louisiana Educators to Follow on Twitter #eduFollowChallenge
100 Maine Educators to Follow on Twitter #eduFollowChallenge
100 Maryland and DC Educators to Follow on Twitter #eduFollowChallenge
100 Massachusetts Educators to Follow on Twitter #eduFollowChallenge
100 Michigan Educators to Follow on Twitter #eduFollowChallenge
100 Minnesota Educators to Follow on Twitter #eduFollowChallenge
100 Mississippi Educators to Follow on Twitter #eduFollowChallenge
100 Missouri Educators to Follow on Twitter #eduFollowChallenge
100 Montana Educators to Follow on Twitter #eduFollowChallenge
100 Nebraska Educators to Follow on Twitter #eduFollowChallenge
100 Nevada Educators to Follow on Twitter #eduFollowChallenge
100 New Hampshire Educators to Follow on Twitter #eduFollowChallenge
100 New Jersey Educators to Follow on Twitter #eduFollowChallenge
100 New Mexico Educators to Follow on Twitter #eduFollowChallenge
100 New York Educators to Follow on Twitter #eduFollowChallenge
100 North Carolina Educators to Follow on Twitter #eduFollowChallenge
100 North Dakota Educators to Follow on Twitter #eduFollowChallenge
100 Ohio Educators to Follow on Twitter #eduFollowChallenge
100 Oklahoma Ohio Educators to Follow on Twitter #eduFollowChallenge
100 Oregon Educators to Follow on Twitter #eduFollowChallenge
100 Pennsylvania Educators to Follow on Twitter #eduFollowChallenge
100 Rhode Island Educators to Follow on Twitter #eduFollowChallenge
100 South Carolina Educators to Follow on Twitter #eduFollowChallenge
100 South Dakota Educators to Follow on Twitter #eduFollowChallenge
100 Tennessee Educators to Follow on Twitter #eduFollowChallenge
100 Texas Educators to Follow on Twitter #eduFollowChallenge
100 Utah Educators to Follow on Twitter #eduFollowChallenge
100 Vermont Educators to Follow on Twitter #eduFollowChallenge
100 Virginia Educators to Follow on Twitter #eduFollowChallenge
100 Washington Educators to Follow on Twitter #eduFollowChallenge
100 West Virginia Educators to Follow on Twitter #eduFollowChallenge
100 Wisconsin Educators to Follow on Twitter #eduFollowChallenge
100 Wyoming Educators to Follow on Twitter #eduFollowChallenge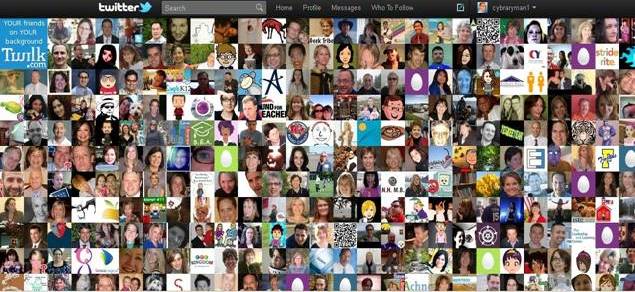 #edchat Super Stars
@web20classroom
@tomwhitby
@ShellTerrell
@kylepace
@jswiatek
@cybraryman1
@blairteach
@rliberni
@mbteach
@edtechsteve

#ukedchat
@ianaddison
@DeputyMitchell
@janwebb21
@Natty08
@Joga5
@colport
@bevevans22
@dailydenouement
@dughall
@carolrainbow
@mushychelle


English
#engchat
@mrami2
@andycinek
@cpoole27
@cspiezio
@aleaness
@CTuckerEnglish
@TeachMoore
@CBethM
@tkraz
@Npriester
@mindi_r
@thereadingzone
@Philip_Cummings
@AngelinaShy
@yaloveblog
@Npriester
@AndersonGL
@tkraz
@CheekyLitTeach
@JeremyLenzi
@BethRitterGuth
@dyastremski

#EduVue
@JaimeVanderG
@GaTechTeach
@CatFlippen
@slmteched


Math
@mathchat
@ColinTGraham
@republicofmath
@MariaDroujkova
@malcolmbellamy @buddyxo
@aaallain
@chuckcbaker
@maxmathforum
@buddyxo
@suburbanlion
@millerblair
@mathrabbit1
@chris_1974
@bucharesttutor
@dweksler
@Matt_Arguello
@misterlamb
@d_martin05
@jmclean77
@mathteacher1729
@mathfour


School Psychologists/Counselors
#Psycchat
@EmmausKevinK
@MattyDeeHaines
@HectorCeniceros
@LimestoneSC

Music
#musedchat
@Zweibz7
@pisanojm
@thomasjwest
@TeacherCast
@bassjen1
@michellek107
@crafty184
@MrAhrens
@shawdave
@DoremiGirl

@musikmarc
@richardmccready
@theresawhite
@KFreesen
@byperc
@lovedrummin
@LindsayMorelli
@MusicEdTech
@rizzrazz
@learnmemusic
@MsEstep
@jguarr

Science
#scichat
@janellewilson
@Brunsell
@2footgiraffe
@educatoral
@minormusic
@LindsayMorelli
@doctorjeff
@drwetzel
@gardenglen
@MsPoodry
@CBrannon
@cytochromec
@teachscience
@MrMusselman
@DaretoChem
@jonbergmann
@chemicalsams
@bennettscience
@sanmccarron
@EurekaTeacher

Coaching
@BrdCmpbll
@Clem2258
@CoachCreach
@cmcgee200
@haledogg
@1olballcoach
@asmwilson
@coachrogne
@mryoungteacher
@hailstorm_11
@mramidon
@MrA47
@j_rake
@Mason_Hughes
@CoachWalrich


Social Studies
#sschat
@Ron_Peck
@Becky_Ellis_
@russeltarr
@mshuflin
@Brian_ThomasTCI
@burgessdave
@kyteacher
@rgriffithjr
@nesticos
@gregkulowiec
@SErwin
@dlaufenberg
@SLazarOtC
@UkiahCoachBrown
@MikeGwaltney
@iteach4change
@ShawnMcCusker
@mooresclassroom
@agins213
@TheSwish
@woodenmask
@daylynn
@irishteach
@ThalesDream
@kennethcdavis
@PerformanceEd
@garrettestenson
@CHuckeba
@ColoradoHowe
@MsSandersTHS
@AJBianco
@tsocko
@teacherromeyn
@lmsahistory
@mshuflin
@historyfriend
@42thinkdeep
@jhenze44
@cpaterso
@ThomasRiddle_II
@MsSandersTHS
@kconners09
@da_rolph
@MrsBeck25
@lamoureuxr
@Sirotiak02
@eevansHHS

Special Ed
#spedchat
@devenkblack
@damian613
@tperran
@techieteacher
@SpecialEdAdvice
@gregoryshea
@hshawjr
@BMurray13
@W3iGHTLESS
@teachntech00
@drseide
@2eNewsletter
@BMurray13
@kbkonnected
@SFecich
@akbusybee





Middle School
#mschat
@blocht574
@sguditus
@HeyLeeAnn
@dane1434
@francesblo
@mbfxc
@mthman
@analieses
@jeifling
@ratzelster

Librarians
#tlchat
@joycevalenza
@shannonmmiller
@gwynethjones
@buffyjhamilton
@gottsled
@jenniferlagarde
@mtechman
@LibraryRaya
@johnsonmaryj
@SOMSlibrary
@sandynay
@imcguy
@mauilibrarian2
@devenkblack
@DJ345
@librarianbyday
@mluhtala
@keisawilliams
@BuzzingLibrary
@NikkiDRobertson
@librarian_tiff
@staffdevjnkie
@librario868
@cathyjo
@pseudandry

Parenting #ptchat
@Parentella
@Annie_Fox&nbsp
@micheleborba
@lisaodavis
@gpescatore25

Students #stuvoice
@zakmal

ELL EFL ESL ELT
#eltchat
#ellchat
@Larryferlazzo
@tonnet
@esolcourses
@Mtranslator
@SeanBanville
@zecool
@hoprea
@evab2001
@IsilBoy
@Marisa_C
@judiehaynes
@ozge
@russell1955
@PreKlanguages
@nyates314
@eslmonica
@Yohimar
@burcuakyol
@harrisonmike
@olafelch
@kalinagoenglish
@englishraven
@barbsaka
@EveWeb
@SueAnnan
@acerview54
@BrunoELT
@brad5patterson
@DrSarahEaton

Elementary
@plnaugle
@pernilleripp
@thompseg
@doriedance
@4thGrdTeach
@CYarzy
@TRockR
@lindayollis
@love4thgrade
@jasonschmidt123
@dandanscience
@jennregruth
@ncarroll24
@mr_avery
@teach1tech

@NicolRHoward
@justwonderinY
@literacydocent
@newfirewithin
@cristama
@virtual_teach
@jmplus2
@BarbaraDay
@avivaloca
@yourkidsteacher
@Romm5Friends
@JodiJteacher
@amsgoodwin
@huebner1
@saraallen91
@MissBamberger
@SimplySuzy
@teacher6th
@stephe1234
@JulieDRamsay
@downrightdave
@mr_brim
@teaching529
@BrightTeacher
@DerekBraman
@MrBillySpicer
@teambond
@vcuttini
@JuleeMurphy @Jmahafey4
@MrsMorgansClass
@daydreamreader
@missmac100
@mr_brim
@#tcash



GT #gtchat
@gtchatmod
@DeborahMersino
@ljconrad
@Begabungs
@jofrei
@LesLinks
@GiftedHF
@peter_lydon
@venspired
@TXGifted
@atxteacher
@TxParentingPG
@teachagiftedkid
@asynchschlrsfnd
@Giftedkidsie
@deepwaterscoach
@MaryStGeorge
@laughingatchaos
@Byrdseedgifted
@HoagiesGifted
@GiftedPhoenix
@Dazzlld
@Frazzlld
@chrstinef
@CathRiordan
@DavidsonGifted
@NAGCGIFTED
@JeffDanielian
@AsynchSchlrsFnd
@eshwaranv
@smswain
@JanDeLisle
@MarilynSwanson1
@TosteClark
@teachfine
@Dr_Teach
@GiftedJourney
@jenmarten
@drkerig
@giftedcanada
@TheHeadKnuckle
@CoralBurbano
@karenfalcs
@AprilColeman
@fineskids
@MamaChicks
@mathteacher1729
@Susannewith5

Kindergarten
#kinderchat
@louwinsr
@hechternacht
@happycampergirl
@ryflinn
@jmcmcmahon
@Havalah
@Mr_Fines
@Matt_Gomez
@ladyteachkdg
@india0309
@Margee78
@LAMHRainbow
@cpkindergarten
@medahl

New Teachers
#ntchat
@teachingwthsoul
@VideoAmy

Arts Education
#artsed
@creativityassoc
@CreativeSage
See: ArtsEd page for many more




#ALTEdchat
@jenmardunc

Financial Education
@FinEdChat


Administrators #cpchat
@johnccarver
@pammoran
@TonySinanis
@colonelb
@iSuperEit
@iSchoolLeader
@patrickmlarkin
@NMHS_Principal
@gcouros
@DeronDurflinger
@averyteach
@8Amber8
@Thanks2Teachers
@geraldaungst
@blairteach
@Principal_El
@tee62Br
@Akevy613
@Darcy1968
@courosa
@drdouggreen
@kevcreutz
@fliegs
@L_Hilt
@baldy7
@Joe_Mazza
@drdouggreen
@PrincipalBerry
@CoachB0066
@northeagles
@PrincipalArc
@used2bprincipal
@Blankenship_S
@graingered

@steelepierce
@NormandinBill
@kenroyal
@chrislehmann
@canyonsdave
@Dwight_Carter
@bltg
@ddraper
@phsprincipal
@ericconti
@smconstantino
@bjnichols@
@ToddWhitaker
@thadhaines
@MrWejr
@bircherd
@mcleod
@mikeroberts1973
@carolynjcameron
@mikcooke
@mccoyderek
@johnnybevacqua
@gmbondi
@QZLPatriotHawk
@teachersharetp
@KathyPerret
@ElementaryAP
@justintarte
@krains
@sammorra
@shiraleibowitz
@SamFancera
@ChrisStogdill
@PrincipalJ
@apuustin
@JamesBrauer
@Cantiague_Lead
@jackson_carrie
@bcurrie5
@scottrrocco
@vickivissar
@DocCheek
@wcarozza
@Becky_Ellis_ @billsterrett
@CZawatski01
@MrPowersCMS
@JamesBrauer
@PeterMDeWitt
@wkingbg
@MulveyBeth
@DCulberhouse
@gunnellAP
@dalehancock
@pmhuffman
@PrincipalDunlop
@TimSukalski
@RobCamean
@Fargo101
@RobCamean
@dmiller212001
@TroyMooney
@dalehancock
@rggillespie
@CsmithChristine
@lisaneale
@jalstadt

Tech #edtech
@coolcatteacher
@rmbyrne&nbsp
@stevehargadon
@SNewco
@TeacherCast
@AdamBellow
@thomascmurray
@karenblumberg
@jasontbedell
@paulawhite
@InnovativeEdu
@BeckyFisher73
@dancallahan
@rkiker
@mashable
@JoHart
@BlakePlock
@wkrakower
@trock11
@internet4classr
@tgwynn
@mcarls
@bethstill
@elanaleoni
@kjarrett
@irasocol
@markgammon
@mjgormans
@marynabadenhors
@cnansen
@budtheteacher
@jdthomas7
@edtechsteve
@MZimmer557
@ejulez
@k_shelton
@TeachaKidd
@JoHart
@philhart
@mpondu
@kristenswanson
@brophycat
@dkapuler

@Mollybmom
@lottascales
@stevekatz
@j_allen
@paulgeorgedc
@ShiftParadigm
@R14TechBytes
@larmats
@GEN_Technology
@zbpipe
@dannymaas
@socratech
@teacherdebra
@petervogel
@kellyhines
@RjWassink
@shyj
@JenniferBarnett
@MoodleMcKean
@EdTechLeader
@weemooseus
@VanessaSCassie
@s_bearden
@Mr_Brett_Clark
@wkrakower
@nharm
@kcalderw
@rdlln
@joedale
@DrThomasHo
@lisamonthie
@it_lsr7
@teacherbytes
@jrichardson30
@cfanch
@Ilotimo
@bwasson
@ctrlaltdeliver
@MrMacnology
@debbiefuco
@sjunkins
@timrylands
@cteduonline
@mrhooker

K-12 CIOs/CTOs/Tech Directors on Twitter

Information
@cmcgee200
@SuzanneWhisler
@ktenkely
@TheHomeworkDog
@marcelamomberg
@eshwaranv
@AngelaMaiers

@ToughLoveforX
@cmt1
@dmantz7
@patysavage
@lookforsun
@missnoor28
@cyndidannerkuhn
@markbrumley
@TheEngTeacher
@marynabadenhors
@davidwees
@vickyloras
@JasonFlom
@INFOhio
@drmmtatom
@DavidMiller_UK
@whatedsaid
@classroomtools
@jennar
@pgsimoes
@m_yam
@Mamacita
@CliveSir
@laura_horan
@rushtheiceberg
@daveandcori
@ProfTK
@sourcePOV
@BarbinNebraska&nbsp
@langwitches
@tucksoon
@sirkenrobinson
@JoAnnJacobs68
@KSchulten
@MSTA
@globalearner
@findingDulcinea
@raysadad
@kathyschrock
@joshcook
@Linda704
@jonbergmann
@nancyrubin
@RushaSams
@tbbrwn
@cbcurtisTTL
@kconners09
@DrTimony
@joe_bower
@FlyontheCWall
@KleinErin
@wjputt
@shamsensei
@BmoreSchools
@educationceo
@vmc_teachers
@CreativeEdu
@KirstenWinkler
@TeacherInMe
@amnewish
@nsmichelson

Counselors
@butwait
@pags21

@GaryBrannigan

Speech

@SpeechyKeenSLP

Great Multi Chatters
@padgets
@RafranzDavis
@gret
@garybrannigan
@eliza_peterson
@rkiker
@LiteracyNetwork
@ileducprof
@sweetieberry
@MissCheska
@hadleyjf
@thenewtag

Fun - Keep me smiling
@thenerdyteacher
@amandacdykes
@stumpteacher

Business
@tamurray

Foreign Languages
#langchat
@MmeVeilleux
@mmebrady
@fiteach
@bselden
@mme_henderson
@usamimi74
@CalicoTeach
@DiegoOjeda66
@espanolsrs
@SECottrell
@melindamlarson
@lbpereira
@NinaTanti1
@mrcbarbie @JCPSWorldLang
@sylviaduckworth



Early Childhood
@PreKPages
@KarenNemethEdM
@ECEtech
@enrichingkids
@mpowers3
@Teach_Preschool
@EngageStrat
@momtomadre
@balmeras
@DrLDMcManis
@Kidlutions
@DebChitwood
@VickiEhlers
@NotJustCute
@PlanetPals
@meairy
@bocabeth
@cherylgolangco

Exercise #temt PE
@flourishingkids
@nuuutymel
@Run_Bike_Swim
@Markoni1

#3rdchat Moderators
@JaimeVanderG
@MrBillySpicer
@TRockR
@teambond
@vcuttini

#4thchat Moderators
@ncarroll24
@plnaugle
@cyarzy1
@jmplus2