Not only did Cybrary Man teach for 32 years but he also wrote educational materials for the utility industry. One of his over 35 booklets written by Cybrary Man was The Safest You Can Be
for Culver Company
Cybrary Man can come into your classroom (or via Skype or Google Hangout and Mixbook) and show your students how he wrote one of his educational activity booklets. The only charge is thank you letters or creative tech response from the students.
REACH Rocketeers: Career Talk: Chatting with CybraryMan!
Mrs. Carroll's Classroom Blog: Back to the Basics of Writing
Mrs. Yollis' Classroom Blog: Learning From Cybraryman
Mr. C's Class Blog: Skype With Jerry Blumengarten
What we learned from our Author Skype
MSMCYEAR4
Yesterday we skyped @cybraryman1. we learnt a lot. he is an author, and he used to inspire kids with comic books and super heros. We skyped @cybraryman1 His message to us was to express ourselves creatively and that its good to be different.
Cybrary Man has done his writing presentation in Australia, Canada, Honduras and the following states either in person or via Skype: Arkansas, California, Colorado, Connecticut, Florida, Georgia, Indiana, Iowa, Louisiana, Maine, Massachusetts, Michigan, Minnesota, Mississippi, Missouri, Nebraska, New Jersey,
New York, North Carolina, Pennsylvania, Texas, Utah, Wisconsin
---
Author and Illustrator Links
Virtual Author Visits in Your Library or Classroom - Skype An Author Network
a.k.a. : author pseudonyms, aliases, nicknames, ...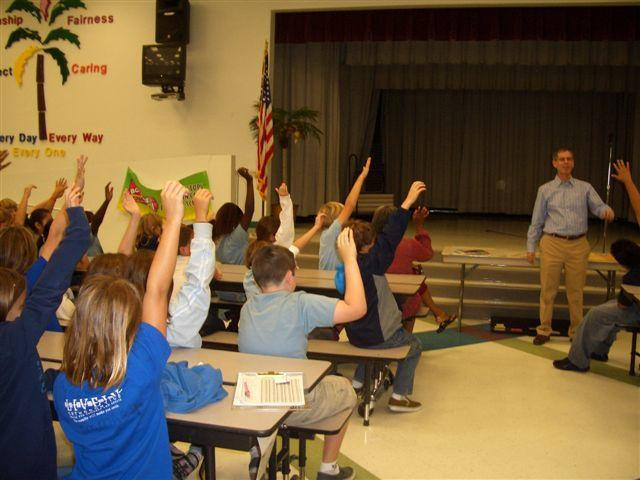 Cybrary Man getting great response from students during
his writing presentation.
---
SparkNotes Study Guides
BookRags - Book Summaries,
---
AuthorTracker
Teenreads.com -- Author Listing