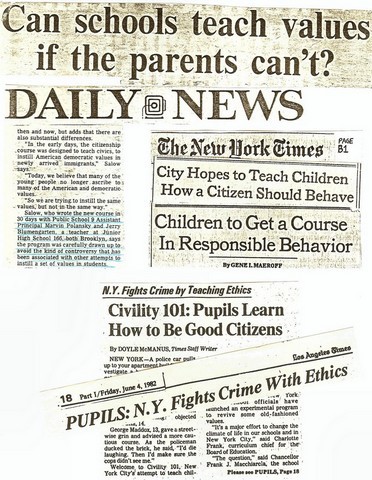 In 1982 the curriculum guide entitled


"Citizenship in New York City"


was released.
It was written in the course of 30 days by Cybrary Man and two other educators.

These are some newspaper headlines about this guide:

New York Daily News
Can schools teach values if the parents can't?

..."In the early days, the citizenship course was designed to teach civics, to instill American democratic values in newly arrived immigrants," Salow says. "Today, we believe that many of the young people no longer ascribe to many of the American and democratic values. So we are trying to instill the same values, but not in the same way."

Salow, who wrote the new course in 30 days with Public School 9 Assistant Principal Marvin Polansky and Jerry Blumengarten, a teacher at Junior High School 166, both Brooklyn, says the program was carefully drawn up to avoid the kind of controversy that has been associated with other attempts to instill a set of values in students..."

December 7, 1982 "A curriculum bulletin is only as good as the skills possessed by the classroom practioner. While we are very proud of our "Citizenship in New York City" bulletin, it takes a person like Jerry Blumengarten to make it come alive. On October 5, Sue Woodman of the British Broadcasting Company and I had the privilege of observing a class taught by Mr. Blumengarten...It is obvious to see why Mr. Blumengarten's students are so turned on to social studies. Ms. Woodman is preparing a radio program to be aired in Great Britain and on the entire North American Network. The "stars" of the program will be Mr. Blumengarten's class..." (Lloyd Bromberg - Assistant to the Director Social Studies - Division of Curriculum and Instruction - NYC Board of Education)

New York Times
Children Get a Course in Responsible Behavior

City Hopes to Teach Children How a Citizen Should Behave
---
Los Angeles Times
Civility 101: Pupils Learn How to Be Good Citizens
N.Y. Fights Crime With Ethics
(Front page article about classroom lesson)
LOS ANGELES TIMES - June 4, 1982 (Front Page!)
N.Y. Fights Crime by Teaching Ethics - Civility 101: Pupils Learn How to Be Good Citizens
..."Confronted by escalating juvenile crime, vandalism and weapons possession-and a sense that many children are unfamiliar with basic principles of ethics-New York public school officials have launched an experimental program to revive some old-fashioned values. "It's a major effort to change the climate of life in our schools and in New York City," said Charlotte Frank, curriculum chief for the Board of Education. "The question," said Chancellor Frank J. Macchiarola, the school system's chief administrator, "is how do the schools respond to the loss of a sense of community in this society?...
"These aren't just New York City school problems," said Elliot Salow, the citizenship program's chief author. "These are societal problems, nationwide problems."
"It's a question of values," said Blumengarten, the teacher at Junior High 364. "People get scared when they hear the word values used in a public school. We're not telling kids what their values ought to be; we're asking them to think about what their values actually are."
Blumengarten's students, a multiracial group drawn from a massive middle-income apartment complex and a neighboring slum, had little difficulty pinpointing some of the things they value: clean streets, safety from muggers, functioning subway trains...
Later, after the school's harsh electronic bell had sounded and sent the eighth grade scrambling outside for lunch, Blumengarten recalled the exchange and smiled. "You don't get that in textbooks," he said.
The complete Los Angeles Times article
I was also interviewed by the BBC about
Citizenship in New York City