Teacher Notes: Multiculturalism

Map of World with Flags for Student and Staff Country Origins


I put up a map of the world and connected yarn from the countries where students and staff members came from to the flag of that country. The children would get excited when they saw their country's flag.

Email Around the World Project
An interesting project I was involved in was sending and receiving emails from schools all around the world. I posted a large world map and posted the emails with yarn stretched from the email to the country. On the email I placed the flag of that country.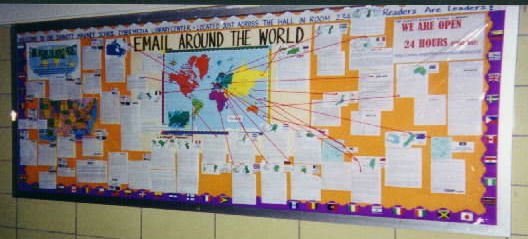 Monthly Multicultural Calendar
Prepare a large oak tag chart for each month. On this chart put all of the days of the month and the birthdays of famous people and important events. For each day list one item and try to choose items that reflect multiculturalism. Each month I would hang that chart in room.
---
Micositas: Picture books in English, French and Spanish etc.
When inner city students (Black and Hispanic) talked about some white boys in an adjoining neighborhood. I said: "Wait a minute, I am white." Their response was: "No, you're not Mr. Blumengarten." I think this showed me that they knew I cared about them and they accepted me and not for the fact that I was white. That is why I really think #YouMatter started by #angelamaiers is so important.